Surf's Up! Decorating with Surfboards
Husband and I got in our best ever day of body boarding earlier this month at St. Peter's Harbour Lighthouse Beach in the North Shore of Prince Edward Island. The waves were in the 5ft range and we imagined we looked like these two above ::::wishing:::::. The sesh was so good that the Mr. broke his board. So I popped "body boards" and "boogie boards" into the Google machine to see what's out there. But then I hit Pinterest and the search took a very sharp turn — away from boogie boards, into surf boards and then to interiors. So today I offer this appreciation of the surfboard as decorating. So. Chic.
Quintessential Cali boho style featuring the Sunbaked Gio board via Billabong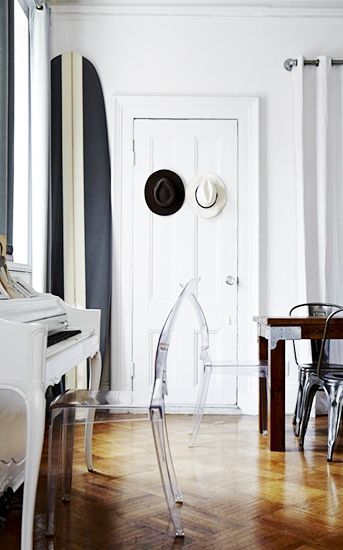 This monochromatic surfboard was designed to match this Gramercy Park apartment of world traveler Kristin Barone. Photo: Michael Mundy/An Afternoon With.
Mikey DeTemple's oceanside hideaway in Montauk, NY packed with old beach treasures including several vintage boards. Photos: Zak Bush.
A Queensland home with a strict black and white palette and a great looking little board tucked in a corner. Design: Simone Barter Design Studio.
A California hacienda by Erin Martin with custom surfboard by Kelly Wearstler. Love the ropes — and of course the mix of graphics with the mud cloth and board! Photo: Douglas Brenner.
A view of the Roman & Williams studio via Instagram. Whodathunk surfboard as office decor? Them apparently.
An old railway cottage in Santpoort, The Netherlands by Zecc Architecture is flooded with light and maintains its industrial edge. A sunbleached board basks in some rays.
A little earthy textured corner that I'd move right into. Sadly, I cannot find the design source for this. I seriously got 0 results searching tineye.com and then Google image search netted all the same dead end of Pinterest posts. Hmmm. Anyhoo, love. it. After seeing this I purchased a nice woven plant pot cover for my fiddle leaf fig. No board yet...
design, travel, interiors
Margot Austin
surfboard, vintage, beach, beach house, surf style, Roman & Williams, Erin Martin, Haydenshapes, Kelly Wearstler, Giannetti Home
Comment